Schedule and prices
To buy tickets you can in the ticket window of the zoo: 40, Tashkent Street.
Zoo ticket window working hours: from 10:00 to 19:00 every day.
Also you can buy ticket on-line.
Dear visitors!
Please note that since March 25, 2018 the romantic night show will no longer be held due to its closure for
technical reasons. Purchased earlier tickets (certificates) for a night show can be exchanged
at the ticket office for the day show + photo on the platform with dolphins.
We apologize and will be glad to see you on our daily performances!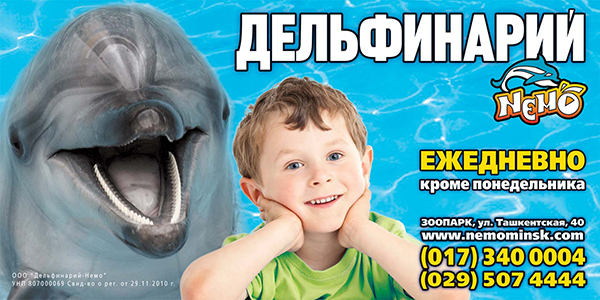 Daily show
The best marine artists: merry seals,
a lion and amazing dolphins invite you to their performances every day.
Discover the wonderful world of marine animals and plunge into the atmosphere
of the holiday with the dolphinarium «Nemo»!

Schedule for June 2018


DAILY SHOW

with a visit to the exotarium,

aquarium, terrarium

Mon, Tu, Wed, Thu, Fri

12:00

23.0 r

15:00

23.0 r

18:00

23.0 r

Weekends: Sat, Sun

12:00

15:00

18:00

25.0 r

Аdditional services


Children up to 5 years old
Birth identification must be shown*

Free of charge

Photo-Video recording during performance

Free of charge

Photo with dolphins at the platform

Up to 5 people

20.0 r

Photo at the platform with your camera

Up to 5 people

15.0 r

Photo in the water

+ 1 circle

40.0 r

Swimming

5 min

100.0 r

Diving with dolphins

30 min

170.0 r

Video dive with dolphins

100.0 r

Dolphin therapy

(

winter

)

150.0 r

Dolphin therapy (in summer)

170.0 r

Dolphin therapy for pregnant women

190.0 r
*Please note that the free admission for children up to 5 years
is provided without seats, according to one purchased ticket
for one adult, 1 adult - 1 child up to 5 years
| | | |
| --- | --- | --- |
| | Copyright 2011 - 2018 Minsk dolphinarium «Nemo» | |