Schedule and prices
To buy tickets you can in the ticket window of the zoo: 40, Tashkent Street.
Zoo ticket window working hours: from 10:00 to 18:00 every day.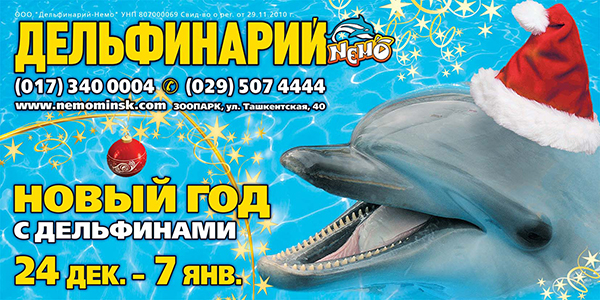 DAY NEW YEAR SHOW
Dear friends, we invite you to spend the magical
NEW YEAR'S and CHRISTMAS HOLIDAYS in the Minsk Dolphinarium 'Nemo'!

Amazing dolphins, funny sea lions, an inimitable sea lion and a meeting with your beloved
Santa Claus and Snow Maiden are waiting for you on New Year's day performances!

This is a fascinating fabulous New Year's show with fun songs and music, an incendiary
interactive with the audience and lots of joy!
An interesting and amazing show will give the whole family a New Year mood and
a limitless positive charge for the whole year!

New Year's day performances will be held every day
from December 24 to January 7 at 12:00, 15:00 and 18:00.
(Please note that submissions on December 31 at 18:00 and January 1 at 12:00 are canceled)
Cost: 25 r
Performances take place in a warm room under the dome!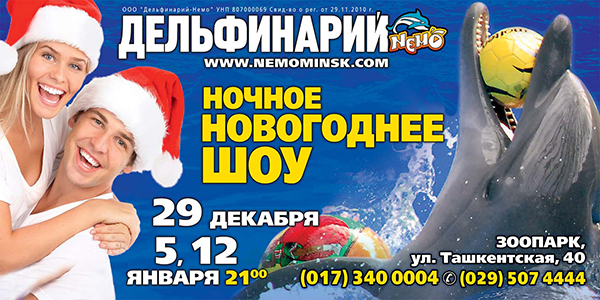 NIGHT NEW SHOW
CHRISTMAS and NEW YEAR — these are the two kindest, warmest and family holidays.

Minsk Dolphinarium 'Nemo' invites you to spend these wonderful New Year holidays together!
Give your loved ones, relatives and friends the best New Year's gift — an amazing festive NIGHT SHOW!

You will find an enchanting, bright and exciting show program for the whole family:
a bright and spectacular laser show, acrobatic and dance numbers, live music and, of course,
incredible dolphins and other marine mammals. Spend these holidays
in a fabulous and magical atmosphere of New Year's romance!

The festive night show will be held on December 29, January 5 and 12 at 21:00.
Cost: 28 r
Performances take place in a warm room under the dome!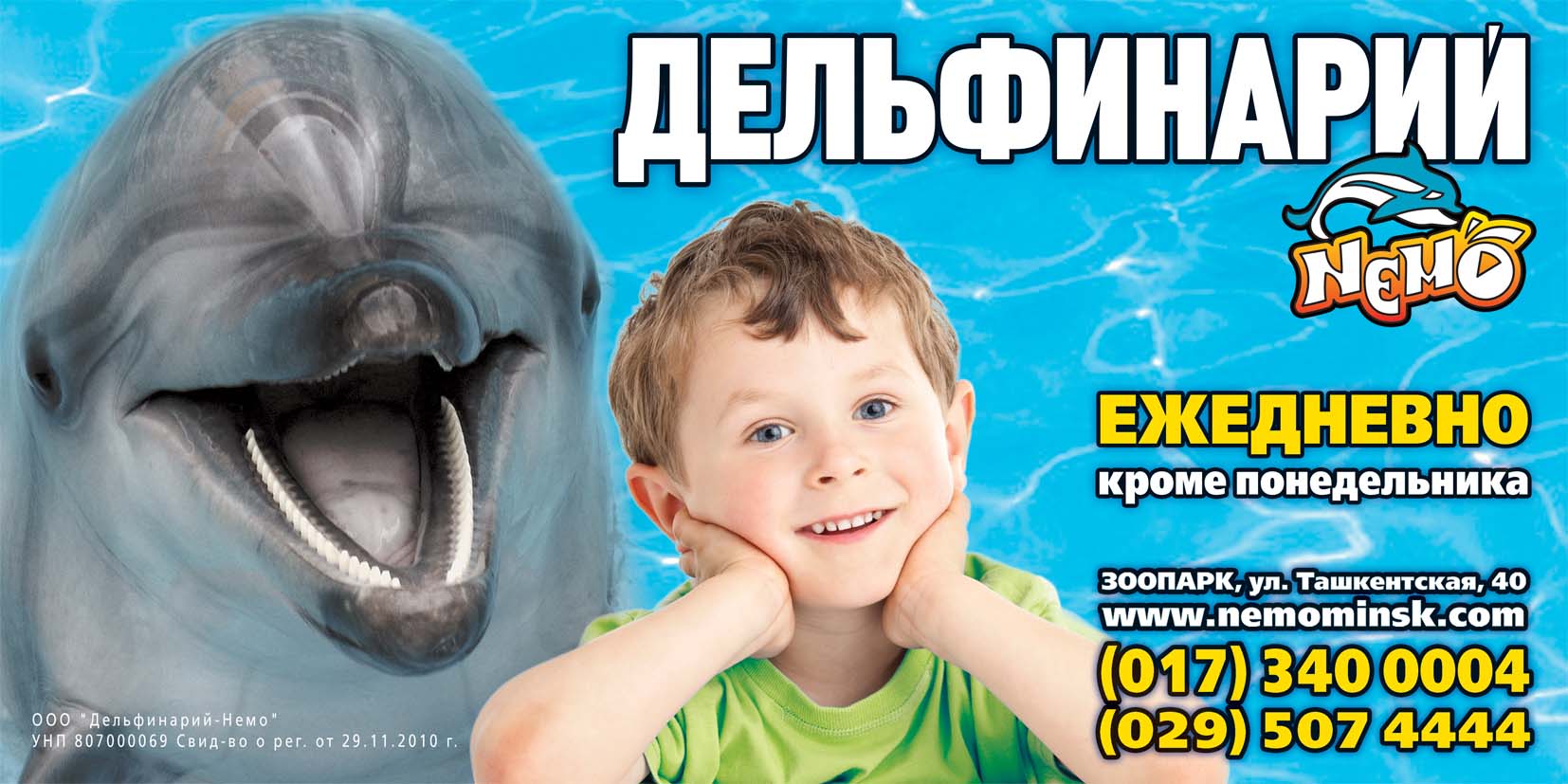 Daily show
The best marine artists: merry seals,
a lion and amazing dolphins invite you to their performances every day.
Discover the wonderful world of marine animals and plunge into the atmosphere
of the holiday with the dolphinarium «Nemo»!
Monday — closed

Festive schedule


Name

Day

Session

Cost

DAY NEW YEAR SHOW

December 24 to January 7

12:00

15:00

18:00

25.0 r

December 31

12:00

15:00

25.0 r

January 1

15:00

18:00

25.0 r

NIGHT NEW SHOW

December 29, January 5 and 12

21:00

28.0 r

Schedule for December 2018


DAILY SHOW

with a visit to the exotarium,

aquarium, terrarium

Tu, Wed, Thu, Fri

12:00

23.0 r

15:00

23.0 r

18:00

23.0 r

Weekends: Sat, Sun

12:00

15:00

18:00

25.0 r

Аdditional services


Children up to 5 years old
Birth identification must be shown*

Free of charge

Photo-Video recording during performance

Free of charge

Photo with dolphins at the platform

Up to 5 people

20.0 r

Photo at the platform with your camera

Up to 5 people

15.0 r

Photo in the water

+ 1 circle

40.0 r

Swimming

5 min

100.0 r

Diving with dolphins

30 min

170.0 r

Video dive with dolphins

100.0 r

Dolphin therapy

(

winter

)

150.0 r

Dolphin therapy (in summer)

170.0 r

Dolphin therapy for pregnant women

190.0 r
*Please note that the free admission for children up to 5 years
is provided without seats, according to one purchased ticket
for one adult, 1 adult - 1 child up to 5 years
| | | |
| --- | --- | --- |
| | Copyright 2011 - 2018 Minsk dolphinarium «Nemo» | |